Acid protection
- more than just the protection againist acids
Effective protection of plants againist chemical attack requires a detailed knowledge of a project and close cooperation with our customers.
For us, your expectations are as important as the technical requirements. The result will be a systém tailored to your individual needs.
Sophisticated interior
Process tailored linings assure long, uninterrupted service of your plant facilities.
The resistant floor
The great variety of requirements results in a large spectrum of chemically resistant floor lining system.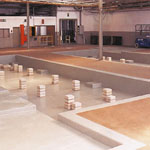 Lining for a chroming plant, approved by the German Institute for Constructional Engineering
Self-levelling coating for electroplating plant
Hexagonal tilings for food and pharmaceutical industries
Fields of application
Highly resistant material for multigrade use + immediate serviceability by avoiding setting and waiting times.
Prefabricated parts are an important component of the Stellaplast systém. By using prefabricated parts the welding work at site can be minimized thus increasing safety and reducing working time.
For Stellaplast we use weld-able synthetics mechanically fixed onto the substrate by means of knobs. Work can start immediately after the substrate has obtained the neccessary structural strength.Thus waiting times formerly occured by setting of the concrete, preparing and curing of materials can be avoided.